Chiarienco shirt Angeline Leather
Regular

€85,00
Sale

€85,00

Regular
Unit Price

per
Top with refined neckline and long sleeves.
Along the neckline is a leather look.
The neck is raised at the rear, so that it is nicely connected to the neck.
Narrow shoulders, which makes optically slimmer.
Double front so that it signs less.
No tight model, see size chart.
Dust:

95% viscose, 5% elastane.
Keep me beautiful:
Machine wash 30 °
Size chart: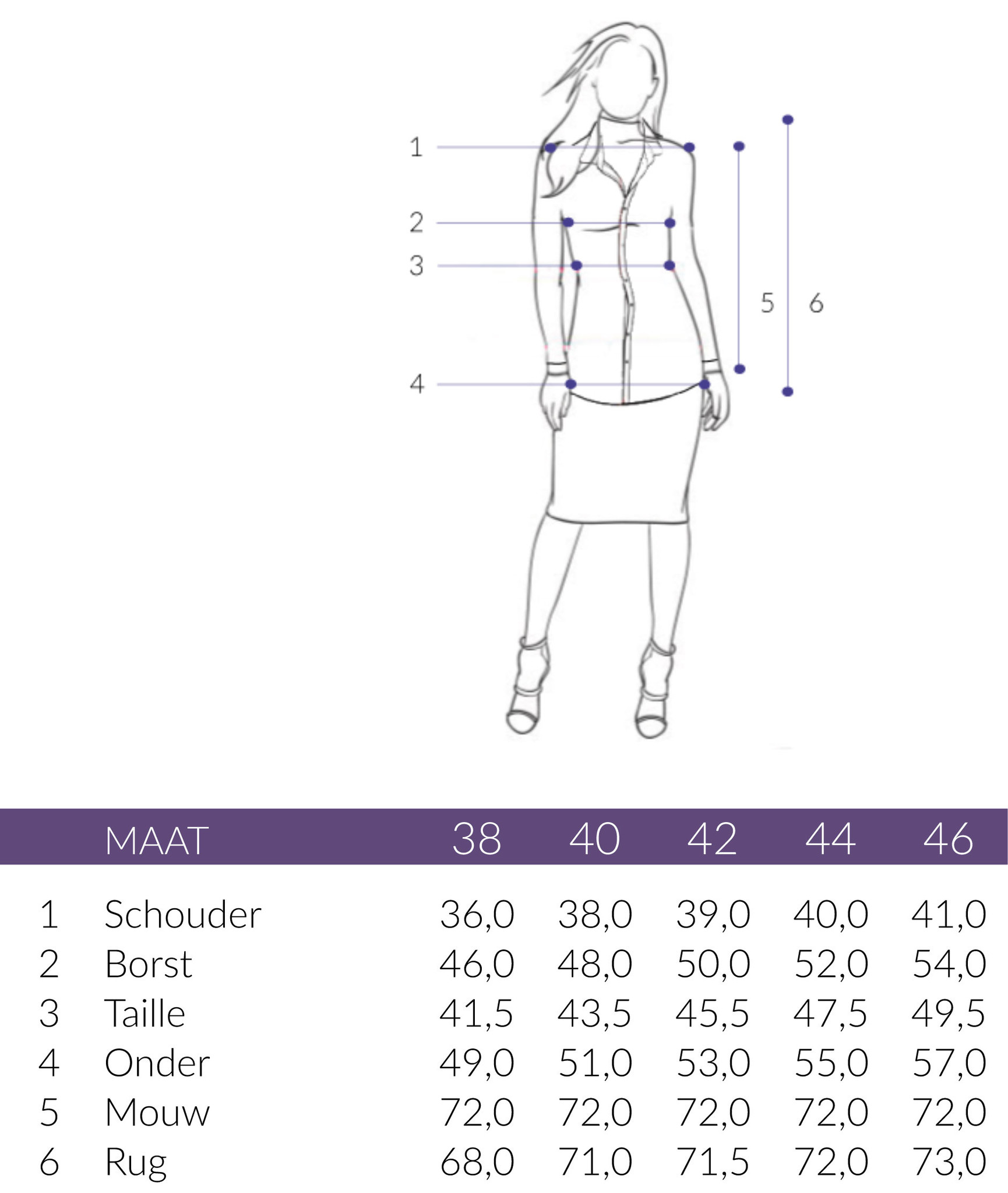 Wanneer wordt mijn bestelling verzonden?
De doorlooptijd is gemiddeld 1-3 werkdagen tot het aan de vervoerder wordt overgedragen.
Betaal ik verzendkosten?
Verzendkosten zijn een alsmaar stijgende kostenpost. Een deel ervan berekenen wij door aan klanten. Wij kiezen ervoor dit transparant te houden en verzendkosten niet te verwerken in de prijs van onze artikelen. Iemand die meerdere artikelen bestelt zou dan per saldo meer verzendkosten betalen dan iemand die 1 artikel bestelt en dat vinden wij niet terecht.
Wanneer je order groter is dan €125,= dan hebben wij meer marge zodat wij de kosten voor onze rekening kunnen nemen.
Wanneer zijn verzendkosten gratis?
Bij een order > €125,= hebben wij wat meer marge om de verzendkosten wel op ons te nemen. Daarom zijn de verzendkosten gratis vanaf een ordergrootte vanaf €125,=
Hoe retourneer ik items?
Ga naar de Retourpagina. (Link voor in je browser:
http://return.clicksit.com/shop/longlady-fashion)
Voer je email adres in en het ordernummer. Vervolgens krijg je een overzicht van de bestelde artikelen uit die order.
Vul in het aantal en klik op "Next"
Op de navolgende pagina kan je de retour reden kiezen.
Rond de retouraanmelding af.
Knip het adreslabel, welke zich op het retourprocedureformulier (achterkant van de pakbon) bevindt, uit en plak over de originele verzendsticker heen.
Leg het artikel en de pakbon in het pakket.
Geef je pakket (voldoende gefrankeerd) af bij een vervoerder naar keuze.
Ik heb artikelen geretourneerd en betaal nu wel verzendkosten?
Doordat de order onder de €125,= is gekomen, is de marge veel kleiner waardoor wij deze verzendkosten niet voor onze rekening kunnen nemen.
Ik wil een item ruilen. Hoe doe ik dat?
Ruilen betekent bij ons dat je een nieuwe bestelling plaatst voor het gewenste artikel.
Betaal ik verzendkosten bij een "ruiling"?
Ja, je betaalt verzendkosten als je een nieuwe bestelling plaatst als die onder de €125,= is. De vervoerder dient ook opnieuw betaald te worden omdat ze wederom een dienst leveren die ze in rekening brengen.
Wanneer krijg ik mijn geld teruggestort na een retour?
Wanneer wij de retour binnen hebben wordt de creditnota opgemaakt en tegelijkertijd betalen wij het bedrag terug op de rekening waarmee je betaald hebt.
De maat is uitverkocht. Komt deze weer binnen?
Helaas kan longwear nooit nabesteld worden. Er geldt op=op.
Hoe wissel ik mijn kadobon of kortingscode in?
Op de checkout pagina vind je rechtsboven een veld waar je je kadobon- of kortingscode kunt invullen.
Hoe bepaal ik mijn kledingmaat?
Longlady kleding heeft dezelfde breedtemaat als confectie maar is geheel in lengte aangepast. Bestel dus je normale confectiemaat. Bij bijna elke item staat een maattabel waarin je de afmetingen van de jeans plat gemeten per maat kan aflezen.
Hoe bepaal ik mijn jeansmaat?
Over het algemeen is je jeansmaat (zijnde een inchmaat, aangeduid met een ") jouw confectiemaat minus 10. Zit je tussen confectiemaat 40 en 42 in dan heb je meestal een maat 31". Bij bijna elke jeans staat een maattabel waarin je de afmetingen van de jeans plat gemeten per maat kan aflezen.